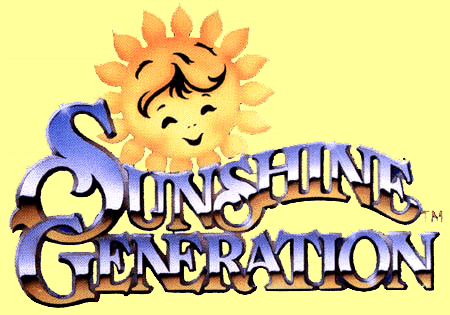 What is Sunshine Generation?


Sunshine Generation is an international children's performing group with thousands of boys and girls participating in its award-winning curriculum. Sunshine Generation is offered at hundreds of locations, including many daycares and pre-schools.


The unique Sunshine Generation program will teach your child performance techniques and skills for success by providing training in the following:

Singing
Songs are selected especially for your child's age and ability. Children sing in the group, and also have opportunities to sing alone.
Dancing
Dances are choreographed for both boys and girls. As dance ability increases, the choreography becomes more advanced.


Showmanship
Each child will be given the opportunity to use a microphone. Spoken narrations are part of the curriculum. Confidence increases as the children perform for a variety of audiences and receive their applause.
Vocal Training and Music Theory
Correct vocal techniques are taught. Children learn vocabulary for music terms and sing a wide variety of music to enhance vocal qualities.
Confidence
All children have talents that can be developed. A child's self-esteem grows as they realize that they have something wholesome and worthwhile to contribute.




Sunshine Generation of NE Tacoma

253-230-4518

No Auditions:
Eliminates negative pressures that younger children experience during tryouts. Our one-of-a-kind program provides a training ground for all children who have a desire to learn.
Music:
Our young entertainers perform to professionally arranged, studio-recorded instrumental music produced exclusively for Sunshine Generation. Music styles vary from Pop and Country to Broadway and beloved standards.


Age:
Three years old through teens. Children are grouped by age for class rehearsals and performances to compliment interest and ability level.
Non-Denominational:
Sunshine Generation is not affiliated with any religious organization. Music and dance are representative of many backgrounds and cultures.
Performance:
Weeks of rehearsal are rewarded with successful performances in the community. As children participate in optional performances they gain self-confidence and prove to themselves they CAN do it.
Affordable:
Sunshine Generation is offered at a reasonable monthly fee. Performance costumes are mass-produced making them cost effective.